ONDC Network is the buzzword in the ecommerce sector and every seller and business is eager to understand what this actually means for them. While it promises pan-India accessibility for sellers and buyers, being a novel concept it raises many queries.
Mystore- the ONDC Network-connected marketplace brings answers to all the queries about the open network. Without further ado let us try to understand everything about the Open Network for Digital Commerce Protocol.
ONDC Network or Open Network for Digital Commerce Protocol is an open network designed to democratize ecommerce markets by facilitating ecommerce adoption for MSMEs. In simple words, ONDC network is a government-backed initiative that offers an open-to-all network for buying and selling goods and services.
The Open Network for Digital Commerce Protocol is based on the concept of focusing on " what works at scale" and sets up a digital network where buyers, sellers, and service providers can freely communicate and do business without any platform-related limitations. The ONDC Network ecommerce initiative not only offers a level playing field to SMEs but also widens the reach and benefits of ecommerce to the sellers as well as the buyers across India.
ONDC Network is also being touted as the UPI for e-commerce. In contrast to the limiting platform-centric model, the open network eliminates the need for a central intermediary and offers an open network to all buyers and sellers.
Open network creates an ecosystem where any seller can connect with any buyer and service provider. A buyer searching for products through ONDC network buyer app gets connected with a vast number of sellers and service providers and can choose a combination of buyers and service providers (like a delivery partner, payment channel etc.) of their choice.
ONDC network is a first-of-its-kind initiative that aims to reimagine digital commerce in India. The model is designed to offer disruptive digital commerce solutions and create an ecosystem that;
Creates an open, inclusive, and competitive marketplace that promotes interoperability

Enables digital commerce with minimal public digital infrastructure

Builds a scalable infrastructure that can be adopted at population-scale

Makes digital commerce small-business friendly

Provides the atmosphere for out-of-box thinking and innovation in the digital commerce sphere

Ensures rapid adoption of digitalization from MSMEs and consumers
The current digital commerce model is a platform-centric model where buyers and sellers are tied to one operator-driven monolithic platform. If a seller moves from one platform to another they have to again start from zero on the new platform. The sellers cannot carry forward the trust or value they built on any given platform.
ONDC network ecommerce is an attempt to reimagine this set-up and introduce trust-portability across the network. This would require the system to be by a facilitator-driven, interoperable decentralized network. This is where a novel concept like the ONDC Protocol can bring about a change.
Open Network for digital commerce Protocol is a market and community-led initiative built on the dual principles of unbundling and interoperability. The unbundling of the e-commerce value chain is made possible through the interoperability of various entities in the ecommerce ecosystem. Different ecommerce entities (for example, sellers, logistics service providers, payment solution providers, tech solution providers etc.) come together on the fly and work in tandem to complete the e-commerce chain from ordering to payment to fulfilment.
Basically, ONDC network ecommerce matches the demands of the online buyers with the nearest available supply source. Buyers get the freedom of choice in the sense that they can find any product, service, seller, service-providers etc. using any ONDC Network-compliant application or platform.
ONDC network will be an ecosystem with a host of sellers, logistics providers, tech service providers for ecommerce etc. In such an environment, the seller can choose any ecommerce tech solution provider to build its online store/ shopping cart and connect with any logistics provider to deliver the orders placed by the customers.
The customers, on the other hand, get a wide range of sellers for the products they are searching. Unlike a typical marketplace where buyers can only choose the sellers and logistics providers offered by the marketplace brand, buyers on the open network can go with any seller or logistics partner of their choice. For example, buyers can go with a seller that offers the best price for a product and can choose a delivery partner that offers the fastest delivery.
By offering freedom to choose from a vast range of products and services, ONDC network is facilitating disruptive growth in the ecommerce sector.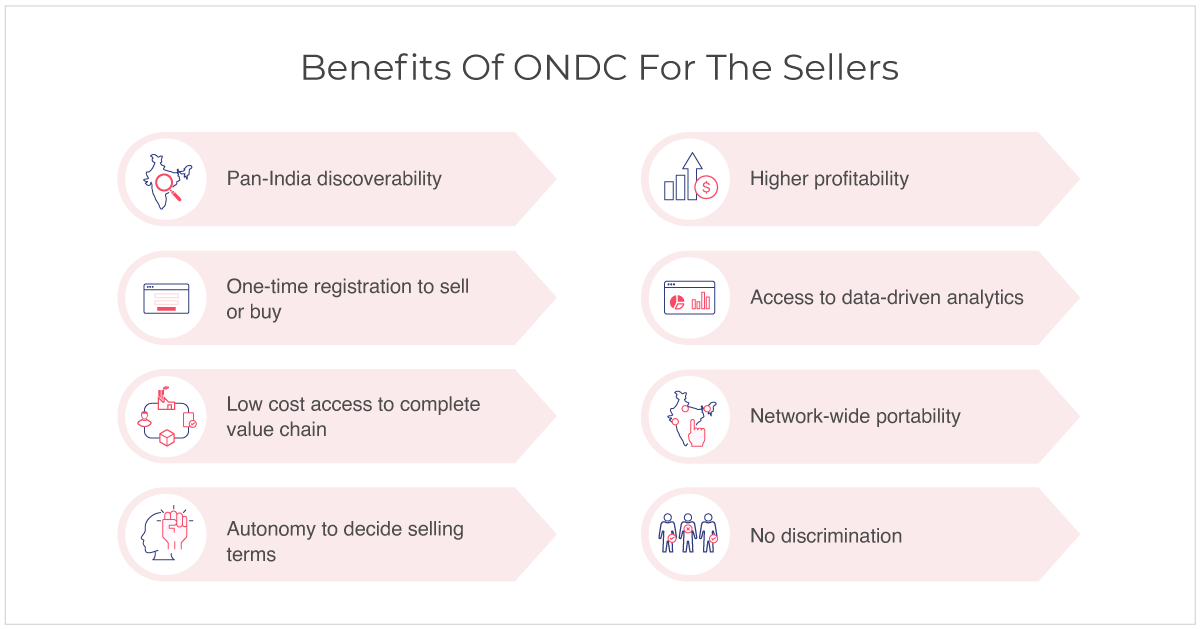 Discoverability by any buyer who shops online

Simple, one-time registration to sell or buy using the ONDC Network ecommerce set up

Access to the best services and tech solutions and the complete value chain at low-cost

Autonomy to decide the selling, return and refund rules and terms

Higher profitability due to deciding the terms that give the best ROI

Access to data-driven analytics for strategic business growth

Network-wide portability of reputation and customer feedback

No discrimination or preferential treatment based on a paid basis as done on marketplaces
ONDC network is all set to open up an immensely huge market for online buyers. Here are the benefits of the open network for customers: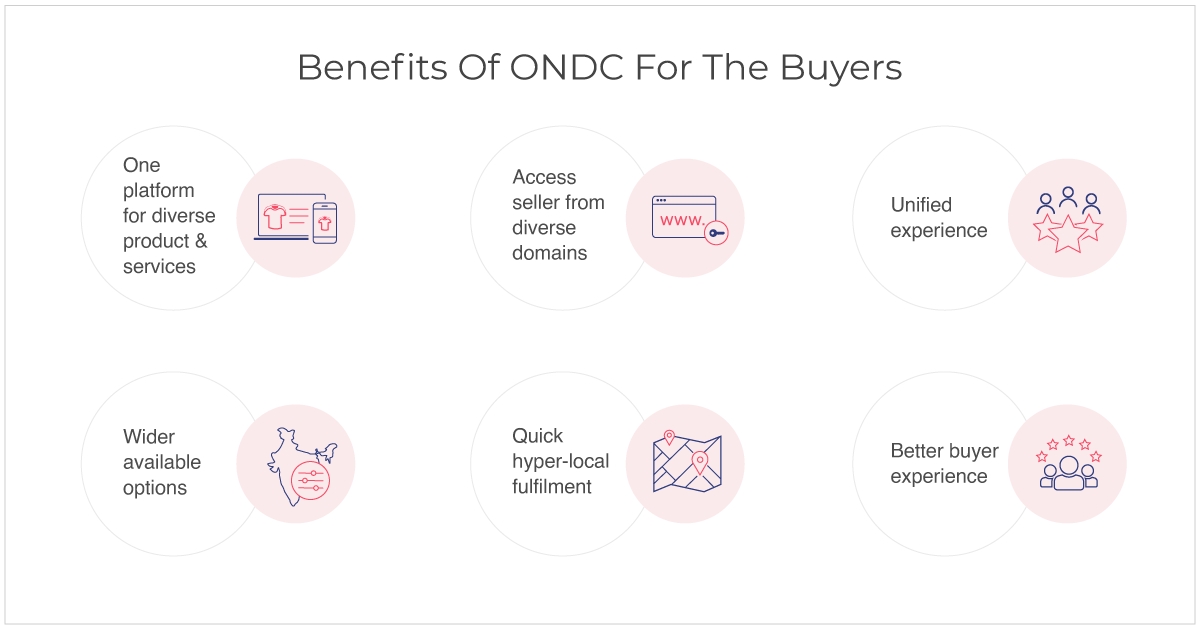 One platform to access every type of product and service across different domains

One marketplace to access sellers from all the possible domains

Unified experience which was not possible on other marketplace platforms

Wider available options for products, prices, delivery solutions, add-ons etc.

Quick hyper-local fulfilment

Improved experience for the buyers
Open Network for Digital Commerce Protocol opens up huge opportunities for technology companies. Here is how tech partners joining Othe open network can have an edge over the competition: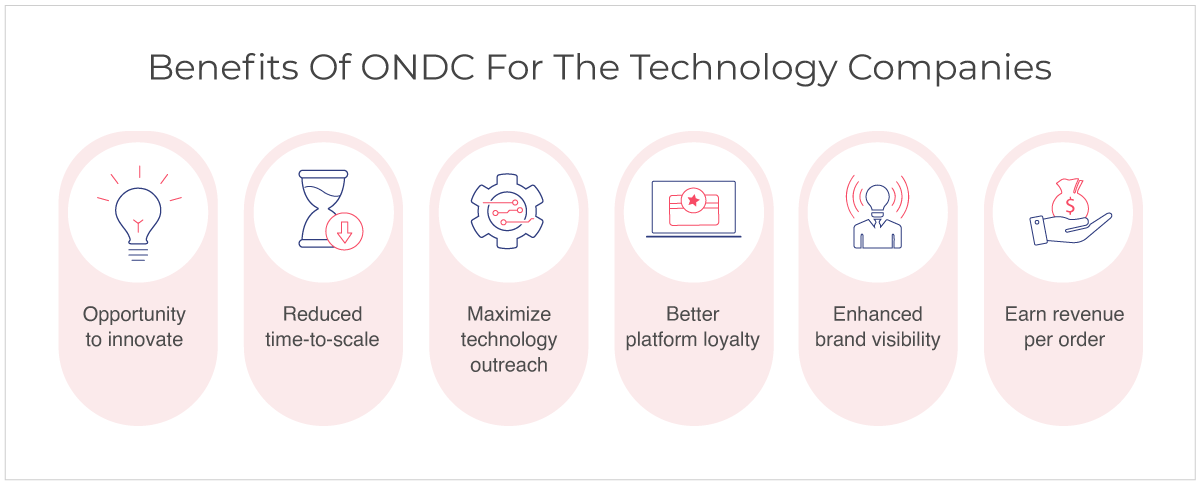 Great opportunity to innovate for the diverse needs of different kinds of sellers and brands

Reduced time-to-scale

Maximize your technology outreach and value

Better platform loyalty and word-of-mouth promotion

Enhanced brand visibility across the network

Opportunity to earn revenue on a per/order transaction basis
The open network concept for digital commerce is all set to revolutionize ecommerce. Based on the principles of population-scale inclusion and benefit sharing, the set-up is especially beneficial to small and medium enterprises which include hyperlocal merchants (Kirana) from all over India.
The decentralized ONDC network for ecommerce interconnects various players and introduces a flow of value to enable all parties in growing better and faster. ONDC network also unifies siloed platforms to offer a vast network that does away with the challenges of the typical platform model.
To utilize the momentous opportunity offered by the open network initiative, sellers need to register on the open network using Mystore- the ONDC Network-connected marketplace. Once registered businesses can upload their catalogues. This catalogue will be visible on Mystore as well as ONDC network. Any buyer searching for products using one of the ONDC network buyer apps will be able to see these products and order them. Mystore offers a comprehensive admin panel to brands to manage their products, inventory, orders, shipments and payouts.
By registering on Mystore seller app, businesses get:
Improved brand visibility

Own independent page which can be shared with your buyers

Access to buyers pan-India

Lower customer acquisition cost

Better sales

Access to cutting-edge features for selling, managing and growing business online
Explore the opportunities at the ONDC network by registering on Mystore right away.