Did you know that 13 out of 20 top DTC brands are in the fashion and apparel industry?
We bet you are startled at the moment, aren't you?
So were we when we found out about the immense potential fashion brands hold in the ecommerce space.
Want to leverage this vast market to your favour, but wondering how to?
The answer is simple - with the seller app by ONDC network!
The ONDC Network is a government-backed initiative that connects sellers with buyers from across India on a shared network. The digital platform is set to help SMEs go beyond the giant marketplaces and create their individual presence in the ecommerce world. ONDC network is designed to help sellers go from offline to online market seamlessly and enjoy easy access to millions of buyers with advanced ecommerce solutions.
While the online fashion industry is already booming, the platform offered by the ONDC network is set to give small sellers an opportunity like never before to tap markets pan-India.
Let us look at a few fashion ecommerce trends that sellers should watch.

$ 1.2 trillion is the expected valuation of the ecommerce fashion industry by 2025

$ 43 billion is the forecasted size of the Indian D2C online fashion market by 2025

54% of online fashion sales in India will come via the apparel industry by 2024

51% order volume growth in Indian fashion ecommerce market in FY2021
Source: Statista, Financial Express, Redseer
The above data suggests that selling fashion online is the way to go for merchants of every size. And to help sellers go to the market in a record time, Mystore brings an advanced seller app with a feature-rich admin dashboard. Fashion sellers get a host of built-in tools to manage their end-to-end businesses easily. The Mystore Seller app also offers integrated payment and logistics solutions to help its merchant clients set up their businesses for multi-channel growth.
ONDC network is an initiative offering sellers equal opportunities as other big players in the ecommerce industry. By registering and selling on the platform by the ONDC network, sellers get the needed exposure and tap into the markets that they never thought of penetrating earlier.
Fashion sellers can benefit from ONDC network in the following ways:
Go to the online market in record time with efficient seller apps like Mystore

Easy access to the logistics, tech support and other solution providers

Do business on their terms, deciding their own terms of service, delivery time etc

Tap millions of customers across the country

Increase their revenue by deciding their own prices and offers

Easy and quick access to valuable customer data through their admin dashboard

Get known as an individual seller via customer feedback

Grow your business in an undiscriminatory environment
The ONDC network seller app offers merchants an ecommerce solution using which they can make the best of the growth opportunities offered by digital sales channels.
The fashion industry has been one of the very first segments to adopt technology and ecommerce. There is a growing demand for both fast fashion and designer wear in the online market today. The reasons why customers have taken to buying fashion online are the easy availability of a variety of products and no questions asked for returns and refunds. By joining the open network, sellers can benefit from this changed buyer behaviour, connect with the customers, and engage with them better.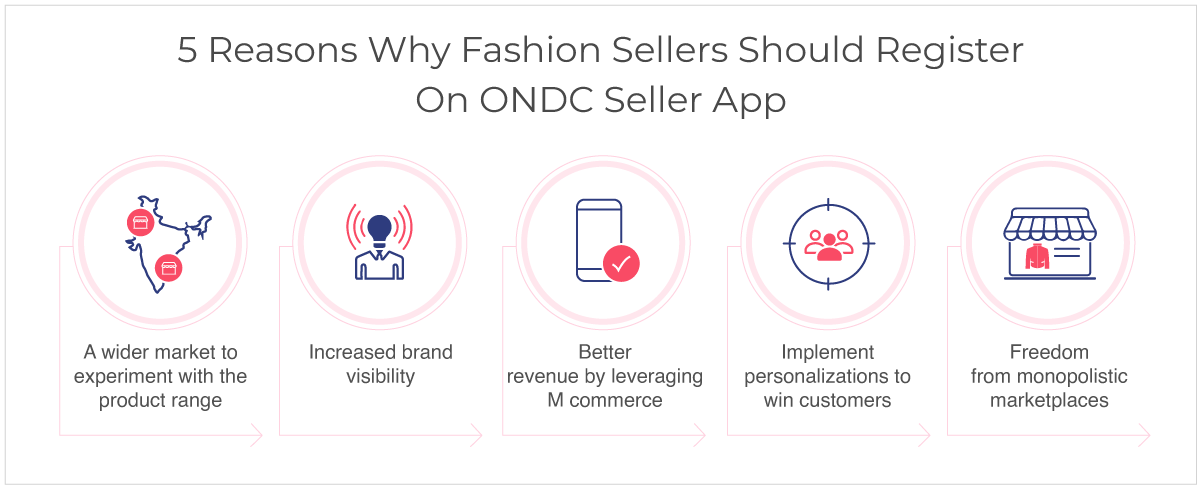 Here are some reasons why fashion sellers should join ONDC network:
There is a new fashion product in the market every day, and to keep up with the ever-changing trends, sellers need to quickly adapt to the market demands. Season, styles, and trends are a few factors that highly influence the fashion market. With the ONDC network platform, sellers get a wide audience base to experiment with a variety of fashion products in new markets and with new customer segments.
With the Mystore Seller app, sellers can quickly widen their reach and customer base and be discoverable in new cities and new customers. Sellers can use a host of features from Mystore like integrated shipping, multiple payment options, etc. to make buying easy and deliveries quick. Streamlined payments and deliveries can build their reputation as a seller on the ONDC network and help them achieve a loyal customer base.
When fashion sellers go online, they get better visibility through phygital channels, i.e, physical store + digital channels. as compared to their brick-and-mortar stores. The tech-savvy millennial customers start recognizing the brand which in turn increases their digital footfalls and revenue.
The feature-rich ONDC network seller app from Mystore enables the sellers to register and start selling quickly on the open network. With the variety of built-in tools in the Mystore Seller app, sellers can promote themselves on multiple channels, offer seamless payment processes, deliver orders quickly, and create a niche for themselves in the online market. By starting early, sellers can also get the first mover's advantage and build a wide customer base quickly.
56% of the online fashion sales happen via mobile devices and tablets combined. Sellers can be easily accessible and widely discoverable on mobile devices when they register themselves on the ONDC network. Having a strong m-commerce presence also gives the sellers a winning edge over the competition.
The Mystore seller app is built on mobile-first technology making it easier for the sellers to leverage the mobile advantage. With a mobile admin interface, sellers can also manage their business on the go and keep up with the latest tech trends.
Selling offline limits the scope of understanding and analyzing customer behaviour. With online selling, brands have better access to buyer behaviour and their taste of choice. The ONDC network seller app, Mystore, enables you to experiment and introduce new products or services based on your interaction with the customers.
As a seller, you get access to rich customer data that gives you better insights into their choices and tastes. You can also personalize the packaging or offering, to further market the brand and create better brand recognition. Other features include personalized discounts and loyalty programs that help to keep customers loyal to your brand.
The giant marketplaces today charge sharp commissions from the sellers and a major chunk of their profits goes in paying these commissions. To leverage the high traffic of these monopolistic marketplaces, sellers are left with no option but to succumb to the charges.
However, with the development of the ONDC network and Mystore seller app, sellers can start selling at commissions that are a fraction of what they pay to giant marketplaces. Sellers can quickly register on the app, upload their products and start selling to their potential customers. It also becomes easy to manage their products with the in-built OMS by Mystore.
Registering on the ONDC network-connected Mystore seller app is not only easy but also quick. Here is how sellers can start selling on the online market in a few easy steps:
Create your account on Mystore seller app with your GSTIN and bank details

Upload your fashion products

Start receiving orders

Align your business for nationwide deliveries

Get payments in your preferred bank account
And done! You are all set to start your online business in 5 easy steps.
The ONDC network initiative is here to bring revolutionary changes in the ecommerce industry and give small SMEs power to widen their reach. The small fashion sellers and new and upcoming D2C fashion brands can benefit the most from the ONDC network platform and grow fast by reaching a new customer base.
The sellers can log in to the Mystore seller app in a few easy steps and get started in no time. Once orders start flowing in, sellers will only have to pay a small percentage per order. The Mystore platform is very easy even for sellers who do not have any prior knowledge or experience of selling online.
Are you ready to take your fashion business to new buyers? Register free of cost on Mystore and start your growth journey right away!